Improve Your WordPress Workflow
Don't Guess With WordPress
ThemeTest WP helps WordPress newcomers, freelancers, experienced web developers or WordPress agencies in testing premium WordPress themes/plugins to ensure they are a perfect fit for their respective WordPress project(s).
These features form the basis of our service, included in all plans.
These features form the basis of our service, included in all plans.
The Right Choice The First Time
There are several areas to factor in when embarking on a WordPress project. Domain Name, Hosting, Branding, Design, Security, SEO and Performance are a few of the key areas to consider and properly plan for to achieve a successful WordPress powered website.
Unfortunately, and inevitably all premium WordPress themes are not built equally and relying on a well decorated sales page and/or a visual test drive of a demo are no longer adequate and reliable factors to make a decision on which theme to purchase for your website project.
Why Pretesting Themes Improves Your WordPress Projects Success
Theme Test WP allows consumers to perform the W.P.A.C (WordPress Pretest and Compare) process through our testing platform. This process is an integral part of the planning stage of any WordPress project.
ThemeTest WP arms you with an invaluable tool to further bullet proof your WordPress project planning and restores the buying power of your WordPress resource purchases in your hands.
Demo Content Filtering
A/B Theme Testing
Plugin Compatibility
Server Compatibility
Demo Content Filtering
WordPress Themes are now being delivered with a plethora of demo content options which sometimes may be overwhelming in choosing which one to use to get your project off the ground. 
Our testing platform allows you to filter through various selections of demo content for a theme to allow you for example to see how a certain element is designed in an alternate demo content which you would like to implement in your website design.
A/B Theme Testing
A/B testing (also known as split testing or bucket testing) is a method of comparing two versions of a webpage or app against each other to determine which one performs better.
Theme Test WP allows you to perform this testing comparing themes with real world content and plugin integration to see which one suits the performance needs of your project(s).
Plugin Compatibility
Plugins are the one of the main driving forces that handle a lot of feature/functionality based tasks within WordPress. Based on your WordPress project, a plugin may appeal to the project BUT may not be compatible with your theme. 
Theme Test WP mitigates the chances of the process of multiple purchases and refunds by allowing you to test a plethora of plugins with your desired theme to ensure seamless integration and application of the plugin
Server Compatibility
Our testing platform emulates real word server configurations to ensure our customers testing experience replicates real world server working environments. 
Over 40+ Themes With 570+ Plugins At Your Disposal
ThemeTest WP provides you with an ever increasing list of the very best premium WordPress plugins ranging from Marketing, Translations/Multilingual, Page Builders and WooCommerce to name a few.
Dashboard View Of All Testing Themes
All testing sites will be listed in the WordPress Multisite default format to allow you to easily switch between theme or demo content variations for testing.
Analytical Tools To Test Themes
Utilising Google Analytics A/B testing you are able to test two or more themes and find a winner for your project.
Pre-enabled Premium Plugins
We have made a variety of premium and WordPress repository based plugins to complement your testing experience.
Click The Icon To Switch Orientation
Premium Features On All Plans
Single Testing
Test Drive Your Theme Of Choice
Triple Testing
The Ultimate Testing Playground
Add 2 Extra User Accounts

Export Design/Configurations Made During Testing
Dual Testing
Choose The Better Of Two Themes
Add 2 Extra User Accounts

Export Design/Configurations Made During Testing
Answering A Few Questions
Pricing & Subscription
You may use the Single Testing platform on Theme Test WP for free. The Dual & Triple plans are paid monthly subscriptions which you cancel at anytime. If you would like to donate to help us purchase more themes to add to our testing platform, you may click on the button below to do so.
Do You Offer Multi Theme | Plugin Testing?
Yes we do! You are able to test up to 3 themes simultaneously with multiple premium plugins on our Triple Theme Testing Plan.
Exporting My Work
We have disabled any form of exporting from within the testing site either through the theme's option panel, plugins or WordPress built-in tools.
We do offer a included service if you have chosen the Triple Theme Testing subscription to migrate any content you have designed/created to your server. Please send us a message using the Support Tab within your testing site dashboard.
We will be creating this as an add-on for other subscriptions in the near future.
Where Do I Find Support?
The support tab is located within your WordPress Dashboard as illustrated in the image below.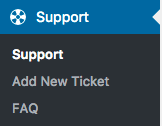 Do You Offer Theme Installation Services?
Yes, we do offer theme installation alongside demo content setup services.
Can I Test Any Plugin In My Test Site?
You may activate and test plugins that are in our allowed plugins section.
Due to performance, compatibility and security reasons not all plugin are allowed to be tested within our service. For more information, please see section Section 12A of our Terms of Service
Do Themes Come With Full Demo Content Installed
Yes, all themes available for testing have their respective demo content installed and ready to go.
How Often Are New Themes Added?
We try to add new themes and premium plugins weekly to cover the popular items from various marketplaces. We will use the feedback we receive on requested themes and add them based on popularity.
Our Testing platform Is Built On The Following Technologies:
PHP 7.1
Maria Database
mem/varnish cache
Key CDN Content Delivery
Lets Encrypt SSL
SSD Cloudways Hosting
Test Some Of The Best Products From Top Authors